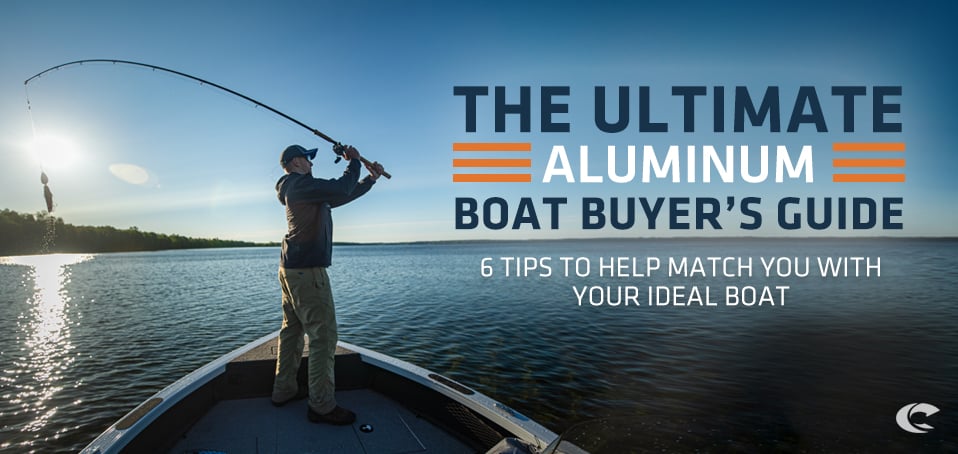 Buying a boat is not like buying a car. It isn't a need, but a want (although it's debatable for some), and it's an experience you should enjoy. You work hard, and now you get to reward yourself. The most important thing to do when shopping for your boat is to be honest with yourself about how you'll use it. If you're going to spend 90% of your time fishing, get a fishing boat. Are you more likely to be towing water skiers but fish occasionally? You'll probably want a recreational boat or a fish and ski boat.
To help guide you in the boat buying process, we've outlined six things you'll need to consider thoroughly before you buy your first (or next) boat.
1. SET A BUDGET AND SPEND IT SMARTLY.
Before you can begin your search, it's important to set a budget and stick to it. The cost of boats can vary greatly, so you'll need to understand what features matter most to you and all costs associated with owning a boat. When setting your budget, ask yourself the following questions:
Should I buy new or used?
A new boat typically promises better fuel economy than older boats, as well as warranty protection. It's usually turnkey and water-ready; just a quick trip from dealer to dock. Buying your boat new also means you get to customize it how you want and need rather than having to settle for someone else's perfect boat. Many manufacturers offer interactive boat builders on their websites, but if you need more guidance, your dealer can help you navigate the options.
With a used boat, you may get a good deal, but you also get what you pay for. Do you know how to examine an engine? Or how to check wiring and other repairs? When in doubt, find a local marine expert to inspect it before buying. It's also smart to ask the seller if the boat is still under warranty. Crestliner offers warranty  transfers between owners, which helps with your later resale value.
What are my financing options?
Financing options vary from dealership to dealership, but be assured that your dealer will help you select an appropriate bank with a rate that is right for you. Of course, putting as much money down as you can is always a good idea, but your dealer can help you work through all options with the bank.
Besides the cost of my boat, what else will I be paying for?
Most boat purchase decisions are budget-based, but you should consider the entire cost of ownership rather than just the price of the boat when setting your budget. Insurance, registration, storage, fuel, and more contribute to the cost of owning a boat.
2. MATCH THE BOAT TO THE WATER TYPE AND ACTIVITY
Understanding your activity needs and location will lead you to identifying the right boat for you, and the most common decision comes down to Deep-V or Mod-V hulls. The best hull for tournament bass fishing is not necessarily the same one you'd want when trolling for walleye. In general, larger, deeper lakes with more wind require a Deep-V hull for safety and comfort; Mod-V hulls work better for warmer climates and shallower lakes, where speed and accessing backwaters are more important considerations.
Keep in mind that the more "universal" boat you buy, the more multi-purpose features you'll have. If you fish, you'll probably lose some rod storage. If you are mostly skiing or tubing, you'll likely have to give up some towing capacity and ski storage. On the other hand, if you do both activities equally, a more versatile boat is a smart choice.
If you aren't sure what hull is best for your region, look around for people on the water participating in activities you'll do on your boat. You will notice similarities and trends, but at the end of the day, choose the style that works best for you. Deep-V boats aren't just found in the North and Mod-Vs aren't limited to the South. It really does come down to what you want and how you'll use it.
Deep-V:
You can take bigger waves.
Most commonly used while fishing walleye, salmon, trout, panfish, bass, and catfish.
The ride is more comfortable in rougher water.
You sit deeper in the boat which is great for older folks and families with kids.
Deep hulls give you better leverage when hauling in that big catch.
You typically have room for 5+ people.
You have more seating options, including pedestal seating, jump seats, and convertible bows.
     See Crestliner's line-up of aluminum deep-v fishing boats.        
Mod-V:
You can easily run in shallower water and get high performance, especially skipping across small waves.
Larger, higher deck configuration provides more casting space.
It's easier to maneuver with a trolling motor and get through tighter spots.
Usually there's room for 2-3 people maximum.
This hull is good for navigating to hunting spots and blinds. 
     See Crestliner's line-up of mod-v bass boats and bay boats.

3. INTERIOR CONFIGURATION MATTERS MORE THAN YOU THINK
When it comes to comfort and overall enjoyment while boating, interior layout is perhaps the most important consideration. Think about the maximum number of people you might have on board at one time and look at the number of seats. Age is significant, too—will you have older family members that need to sit for longer periods of time, or will you and one partner be standing to fish most of the time?
Dual consoles and walk-through windshields offer protection for both the driver and passengers, which is helpful for rough water or questionable weather conditions. If you're looking at boats with higher horsepower ratings, you'll probably see these configurations most often.
Side console boats also provide good coverage for the driver, but if you have other passengers on board, they'll be more exposed to the elements. Many bass and walleye anglers will choose side console configurations because it opens up space in the boat for fishing.
Center console configurations are ideal for bay boats and hunting boats. You drive standing and have 360-degree mobility around the console.
Tiller boats offer the most basic fishability because it really opens up the boat. Tiller-drives give you a little better boat control, easy access to trolling rigs while driving, and simpler maintenance. 
Stick Steer boats are similar to tillers in that they offer good visibility. You can simply steer and control the boat from up front while still having instant access to storage and livewells.
Your other interior consideration is storage. Will you be storing fishing rods, and what are the lengths? Will your inflatable towables fit? Where will PFDs be kept? How about kneeboards and wakeboards? Finally, does your storage need to be lockable? Answer these questions before you shop.
4. BOAT SIZE, CAPACITY, AND POWER: FIND THE RIGHT BALANCE.
The length and beam (width) of your boat are important considerations. A longer, wider boat is more stable, will carry more weight, and requires more power. A shorter, narrower boat is less stable laterally, holds fewer people, and needs less power.
If your primary activities involve bigger water and towing, you'll want a longer, wider, deeper deadrise boat that can handle the horsepower needed for those situations. If you're running in small water areas or you just want to putter up and down river, you'll want a smaller boat.
Most companies will publish horsepower ratings with other boat specifications, and you might be tempted to max out the horsepower of your boat. But backing off the horses a bit can be a smart move if you don't need a lot of speed, or won't be boating in rough water. Usually, the boat that works best for you and its length will dictate how much power you actually need. Your dealer will be a great resource for choosing the right horsepower and can give you insights into what engines are most popularly paired with which boats.
Sometimes boat packages are advertised at a certain price-point, but the engine included is less than adequate for that boat. Be sure to check motor manufacturers' websites for performance bulletins that provide specs of tops speeds, fuel economy, and acceleration of a certain boat/engine combination. Mercury has a consistently updated collection of performance bulletins here.
5. STORING AND TRANSPORTING YOUR BOAT
Keeping the big picture in mind, these four off-water considerations can be game-changers.
Storage. 
Are you planning on storing your boat in your garage? Will it even fit in your garage? Are you able to keep your boat at a dock or do you need to store it in the winter? If you are planning to store your boat indoors, be sure to take note of the overall width, length, and height of the trailered boat. Remember to account for the motor and trailer in addition to the boat.
Towing capacity. 
Know the towing capacity of your vehicle and make sure it's appropriate for the boat you plan to buy. If you're unsure, consult your auto and marine representatives for the proper information.
Geography.
In addition to the type of vehicle you drive, what kind of geography do you live in? How far will you be travelling with your boat? If you're only going short distances, you probably don't need a bigger vehicle. If you live in mountain country, plan to travel up and down steep hills, your vehicle will take more of a beating than it would in flat areas.
Trailer. 
Think about the destination. Are there modern boat ramps with shallow inclines, or will you be facing steep, primitive ramps? Do you have a roller trailer or a bunk trailer? Roller trailers allow you to launch in shallow waters and they tend to be more effective in less-steep inclines. If you are dealing with a steeper ramp and have the advantage of lighter boat, bunk trailers are good options.
6. IDENTIFY TRUSTED RESOURCES FOR SERVICE.
Your dealer is an essential part of this experience, and it's important that you get to know them. Yes, dealers are at dealerships to sell boats, but they also want to help select the boat that is right for you. Even the smallest details and experiences can make a difference, so asking these questions now will give you a more complete understanding of what you can expect from your dealer.
What maintenance will be involved moving forward and how much will it cost? Avoid the fast-track to overspending by learning when and how often your boat and engine need to be serviced.
What does my warranty actually cover and for how long? Don't let that minor, warranty-covered repair pass the warranty expiration date. 
Can your dealer store your boat? A one-stop-shop for all your boating needs can come in handy if you're pressed for time.
Ask your dealer to help you get to know your boat, whether that means demonstrating how to change the oil, optimizing the storage, repairing dents and scratches, or upgrading your Mercury outboard.
CONCLUSION
Now comes the fun part. It's time to find your boat! You're equipped with the knowledge you need to confidently start your search. This isn't something you get to do every day, so enjoy it. By staying honest with yourself and keeping these considerations in mind, you'll find the right boat for you every time. 
Ready to get started? You can find and build your new boat on our Build & Price page.
Already have your dream Crestliner in mind? Contact your local boat dealer to getstarted.