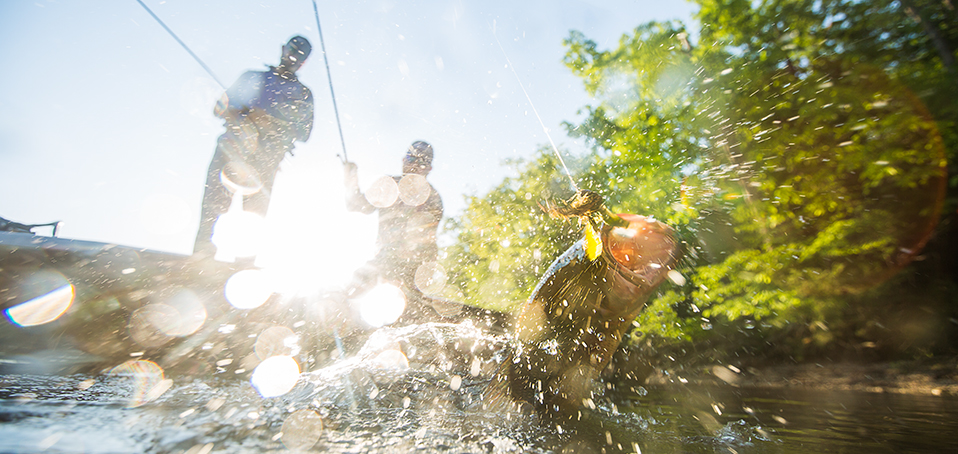 As a kid, Trevor Lo dreamed of taking the winning stage at a Bassmaster tournament. He grew up watching the tournaments on TV and wondering what it would feel like to walk on stage with a bag of winning fish. Fast forward some years and that childhood dream was so strong he spent his high school graduation money (and then some) on a boat and chose a college based on its fishing team. Lo was committed to making a name for himself on the professional bass circuit, and that commitment paid off in 2016 when he won the Carhartt Bassmaster College Series at the Bassmaster Classic in Tulsa, Oklahoma.
After that, Lo's angling career took off. "I got my foot in the door in being involved with bigger name sponsors, big companies in the industry, and being able to represent the college series as their main ambassador"
Trevor is part of the recent surge in popularity among young anglers as competitive bass fishing has gained traction in high school and collegiate fishing circles. More than just rejuvenating the sport of fishing, a new school of hungry young pros and new industry talent is poised to take the fishing world by storm over the next decade.
2019 Is A Great Time To Pursue Fishing
Professional angler Chad Pipkens remembers a time when he was the only young kid at the local tournaments in his home state of Michigan. He would show up to tournaments and be fishing against guys that were two or three times his age.
"I was fishing team-tournaments against a bunch of older guys," said Pipkens. "You know, my friend and I were 18 and 20 and we were fishing with a bunch of 30 to 60-year-olds."
Pipkens is in his seventh year fishing full-time for the Bassmaster Elite Series and has earned over $300,000 in tournament wins while being sponsored by some of the biggest names in the fishing world. He is one of the lucky few who have been able to dedicate his life to being a professional angler.
His success on the pro circuit hasn't come easily though. He spent years co-angling and fishing from the back of boats, making his way up through the ranks and learning a lot along the way. He reflected on how his work ethic allowed him to fish in his early years, "working 60-70 hours a week to pay for entry fees and other costs."
Before the recent boom in student angling, pros like Pipkens had to find their own way onto the tournament circuit, co-angling while rising through the ranks. New high school and collegiate clubs are fast-tracking student anglers to the pro ranks faster than ever. They are using YouTube to learn and educate themselves; then harnessing the power of Facebook and Instagram to network and build valuable brands for themselves.
When Trevor Lo won the Bassmaster Collegiate Championship in 2015, he was not only propelled to the forefront of collegiate fishing but he also received an outpouring of support from industry sponsors. Carharrt, a primary sponsor of the Bassmaster Series, gave Lo a boat and truck to use for a year and bait and rod companies offered him gear. He went from being a strapped collegiate angler to a sponsored champion literally overnight.
"Prior to making it in the college series, I didn't really have any sponsors," Lo said. "After I won, there were a lot of companies that stepped up, especially during my college years, just to help make it as easy as possible for me when I was traveling and fishing."
This new generation of angler is finding it easier than ever to propel themselves into the major leagues of fishing thanks to tournament series like Bassmaster Collegiate. Young anglers like Lo have been fast-tracked to the pros thanks to an industry stepping up and supporting competitive fishing at the high school and collegiate level.
There's More To It Than Hooks And Gills
This surge of new anglers is not only swelling the ranks of competitive fishing, but it's also creating a pipeline of new talent eager to get into the industry. Young adults who fished competitively through high school and college are realizing the multitude of opportunities in the fishing industry that don't necessarily involve making it on the pro circuit.
Ronnie Moore has fishing in his blood. When he was young his dad would pick him up in the afternoons and tell the school Ronnie had a "doctor's appointment." The prescription Ronnie received was spending hours on the water fishing the lakes and rivers of North Carolina. When Moore broke his ankle during his senior year of high school, he knew his basketball career was all but over. He looked to fishing to help fuel his competitive personality and was quickly consumed by the sport: "I didn't really know I loved fishing as much as I did until I couldn't play basketball anymore."
His obsession took him from fishing local tournaments during high school to fishing the Bassmaster Collegiate series during college and beyond. Moore had his sights set on becoming a professional angler but during his junior year of college he was contacted by JM Outdoors and asked if he wanted to help out working on the Bassmaster Tournament's media coverage team.
Moore jumped at the opportunity which quickly developed into traveling 15-17 weeks a year following the tournament circuit. After college, he was offered a full-time job with JM Outdoors and now spends upwards of 30 weeks on the road each year right in the heart of the professional bass fishing community. When asked if he regrets the opportunity he passed up to fish professionally, he is quick to put it in perspective.
"I'm one-hundred percent all-in on my job," said Moore. "I never thought I'd be fine with walking away from pursuing that, but there will be a time and a place down the road where I can still compete or find ways to satisfy that competitive urge"
Moore credits his years spent fishing competitively in high school and college to his current job. His dedication to the sport helped grow a robust network that eventually lead him to his job. He has worked hard to grow a personal brand for himself (over 24,000 followers on Instagram) and uses his experience as a young angler to help guide newcomers to the sport.
Overcoming The Challenges That Face Student Anglers
Although the fishing world is looking much brighter for young anglers, high school and collegiate teams still face an uphill battle. The costs of competing are often prohibitive for many students to get involved and funding for many programs is non-existent. The nature of fishing competitively often means driving long distances to different lakes which can cost hundreds of dollars in gas not to mention lodging, food, tackle, and other gear.
Industry partners have gotten on board to help remove these barriers. Programs like Crestliner's Angling Aces are working to provide opportunities for student anglers through student scholarships, discounted team jerseys and a boat buying program.
Trevor McKinney developed a love of fishing early in his life while fishing tournaments with his dad and has dreamed of fishing professionally since he was young. McKinney's love of fishing followed him through high school and into college where he was awarded a partial scholarship to fish competitively for McKendree University in Lebanon, Illinois.
McKinney knows first-hand the importance of industry partners stepping up to help support student anglers. Although his university covers some of the fees associated with fishing, he's still responsible for paying a certain amount of the costs associated with travel and gear. Last year, McKinney was awarded a Crestliner Angling Aces scholarship to lessen his out-of-pocket costs and allow him to focus more on fishing.
"Angling Aces offers some awesome scholarships every year which help young anglers try to do what they love and for many of us, that's travel and fish," he said.
McKinney is quick to admit that balancing fishing and school can be difficult. Weekend tournaments involve a lot of traveling that challenge student anglers to balance days on the water with their school work and the pressure of entry fees. Scholarships like these from Angling Aces not only help cover costs but help anglers pursue their passion.
Outside of monetary compensation, industry programs help students network and interact with other student anglers. McKinney recalled a recent tournament where two strangers recognized him from his participation in the Angling Aces program.
 "I was fishing at a 250-boat tournament last week and I was standing in the registration line, just standing there minding my own business. And two kids come up to me and said, 'Hey, you're Trevor McKinney.' And I had no clue who they were, but they recognized me from the Crestliner Angling Aces page on Facebook."
Forging these relationships helps create connections between students in different regions throughout the country, and helps strengthen the overall student angling community.
Chasing a career on or off the water, student angling is motivating a new generation to go after their dreams. Today, student anglers have more options than ever to learn how to fish at a younger age and pursue that passion competitively. Those opportunities don't stop when they put down the rod either. With the help of industry partners, students are finding it easier than ever to explore angling as a career choice and that has the future of the fishing industry looking very bright indeed.
If you're interested in exploring opportunities available to student anglers, check out Crestliner's Angling Aces page and sign up to join the team.