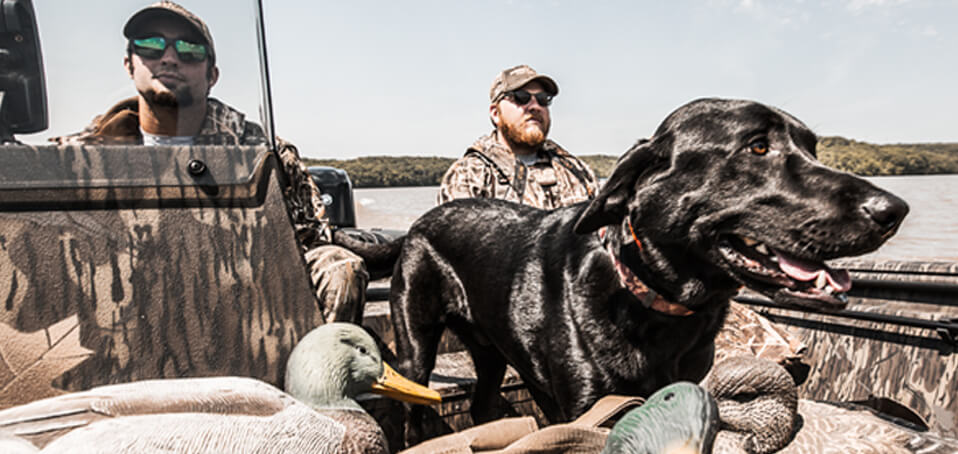 Fall is upon us once again, which can only mean one thing, waterfowl season. Hunting from a duck boat can add an entirely new dimension to your hunt, and whether you're using it to sneak into the middle of a marsh or get into a perfect stand of flooded timber, purchasing a boat isn't a one-size-fits-all decision. So, we went to the pros to get some practical advice on buying your next duck boat.
Many people recognize Crestliner pros Jason Mitchell and Casey Smith for their angling prowess, but both of them are also year-round sportsman with years of waterfowl hunting under their belts. Mitchell began hunting at an early age and started guiding waterfowl hunts in his early 20s. He would often spend seventy-five plus days in the fields of North Dakota, guiding near Devils Lake and the Missouri River. Casey Smith spends the fall months crisscrossing the south, hunting every place from the Louisiana bayou to the flooded backwaters of Arkansas and the coastal inlets of his native Georgia. If these two aren't thinking about fishing, they're thinking about hunting ducks.
We sat down with Jason and Casey to talk waterfowl and asked them for a few pointers on what to consider before purchasing a boat.
BUY THE BOAT THAT'S RIGHT FOR YOU
Overwhelmingly, the biggest piece of advice the two pros gave us was to buy the duck boat that is right for you. It can be easy to set your sights on a fully rigged-out boat with a blind, lights, gun lockers, and enough deck space to land a Huey on, but if you're only looking for something to run decoys or hunters out to your blind, you may not need a fancy rig.
"People need something that's heavy duty, durable & rugged, and in a lot of cases, has a shallow water draft," said Mitchell.
He pointed out if you're hunting local backwaters in the Upper Midwest, a rugged welded jon boat with a small HP outboard is probably all you need. If you're on larger bodies of water where wind and waves add to the elements, a modified v-hull with a few more bells and whistles might be more beneficial. Mitchell added that taking the time to think about how much space you'll need, whether or not you want to fish from the boat, and if you plan on using a boat blind, are all critical questions to consider.
KNOW WHAT KIND OF DUCKS YOU'RE HUNTING.
Not all ducks are alike. You'll find different ducks in different environments. Whether you're hunting in swampy marshland or flooded timber, understanding where your ducks hang out will give you a good starting point for what type of boat you'll need.
According to Mitchell, If you're hunting backwater marshes, sloughs and flooded cropland which is typical of Midwest flyways, a flat-bottomed jon boat like the CR Jon will be plenty. The simple and lightweight construction make these boats easier to push pole through thick reeds and carry over obstacles if needed.
"The shallow draft on a jon boat is a talking point for sure," said Mitchell. "You can slide these boats into six to eight inches of water, especially with a surface drive or jet motor."
For bigger waters like lakes and rivers, Casey Smith recommends a mod-v hull with higher sides and a deeper draft to ensure that you'll stay safe and dry.
"With bigger water, I want a bigger boat because I know what happens when the wind picks up and the waves get bigger," said Smith.
Mod-v boats are more stable in rough waters but still have the maneuverability and shallow draft to get into tight spaces. Many also come outfitted to both hunt and fish from, making them great options for someone looking for a versatile boat.
FIGURE OUT HOW MUCH GEAR (AND PEOPLE) YOU'LL NEED TO CARRY
Both Mitchell and Smith also pointed to storage capacity and the interior build-out of the boat as an essential factor to consider before buying. Because you'll likely be carrying decoys, guns, dogs, and other hunters with you, figuring out the right size and build-out is important.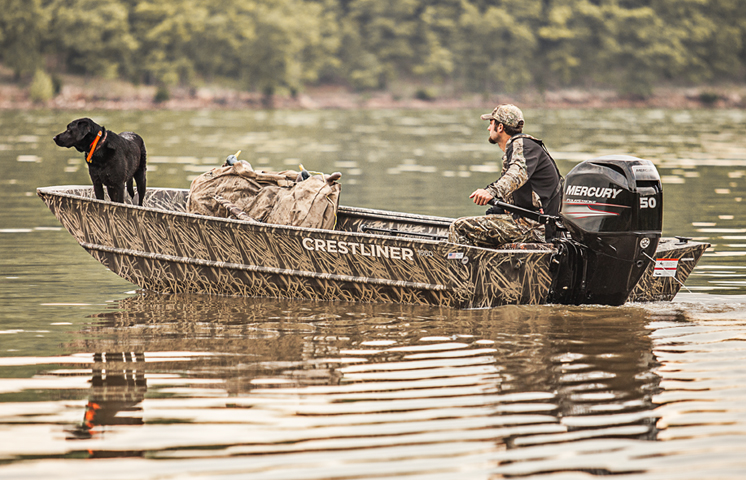 "The worst part of duck hunting is hauling decoys in," said Smith. "Sometimes you may need anywhere from 50 to 300 depending on what you're hunting."
And hauling in all those decoys takes up a lot of space which is why Smith prefers the open floor plan of a jon boat like the Retriever Jon which leaves plenty of space for gear and other hunters. For hunters who use their boat to get from point A to point B, Smith noted the added security and storage which comes along with a mod v-hull boat like the Retriever SC might be preferred. Creature comforts like a gun box to store firearms, padded seats, and 12V outlets to plug in lights and other electronics are features some hunters aren't willing to give up.
BUY A BOAT THAT'S DURABLE AND RUGGED. YOU WANT IT TO LAST.
The temptation to buy any old boat, throw some camo paint on it and put it on the water is tempting, but not necessarily the best option according to Smith.
Duck boats should allow you to go places you wouldn't go with a typical boat," said Smith. "Whether it be over logs or stumps or whatever else, having a thicker hull helps out a lot."
He recommends looking for a boat like the Retriever SC Heavy Duty with an all-welded hull and at least a .100 or .125 inch hull thickness. Having an extra-thick welded hull means you can put the boat in spots where other boats can't get at.
Smith was quick to bring up the story of tearing out the bottom on a thin-hulled jon boat while trying to pass over a submerged levy while hunting in Georgia.
"Having the thicker hull is where you need to be to actually get you in and get you back out of some of those places," said Smith. "That boat was pretty worn out by the time we were through with it."
ALSO LOOKING FOR A FISHING BOAT? THINK ABOUT A COMBINATION HUNT/FISH BOAT.
Most hunters aren't just hunters, they're year-round sportsmen, which is why Mitchell recommends looking at a combination fishing/hunting boat. These mod-v type hulls make great fishing boats in the summer months and can easily transition into hunting rigs once the ducks start flying.
For hunters who want to hunt and fish bigger water or need a bigger boat, looking at one of these combo boats might be just the ticket. They come equipped with rod lockers which can double as gun boxes, live wells, trolling motors, casting platforms, and tons of gear storage.
"Some hunters want to compromise so they can do a little bit of everything," said Mitchell. "That's where the mod-v hull boats really shine."
For hunters who are looking to do double duty with their boat, Mitchell recommended looking for a side console or center console boat like the Retriever FCC. The forward-center console makes them great tender boats while hunting deep-water divers and they're great for fishing, especially in coastal backwaters and bayou.
Both pros agree that getting yourself into a basic duck boat doesn't need to cost a fortune. Take the time to understand what you want to use the boat for and what features you need on it, and you're sure to end up with a hunting rig which satisfies all your needs.