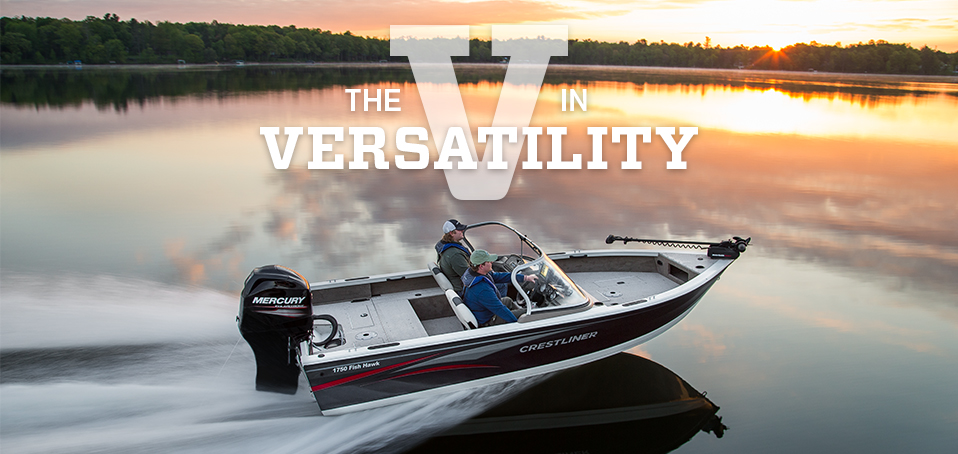 Across North America, Crestliner's deep-V lineup has the grit for serious angling, tow power for watersports and all-around utility for family outings.
Written by Matt Grosinger
Versatility is a virtue. When a watercraft is masterfully built, with equal consideration for generous interior space, abundant storage, robust stability, and a welded, aluminum design, you have more than just a juggernaut of a fishing boat—you have a Crestliner. A do-it-all vessel. We scouted deep-v boat owners from all regions of North America to see how Crestliner faithful use their raptors, fish hawks and super hawks as all-day, all purpose sport vessels. What we found was no surprise: from Texas all the way to Saskatchewan, the Crestliner lineup is making waves around the continent.

 JOHNSTOWN, COLORADO
Ask Colorado Boat Center founder Tom Smith about boaters' favorite on-water activities in the Johnstown area, and he'll swiftly reply, "That's a loaded question." The reason being, there is so much to do on the myriad inland lakes—Boyd Lake and Horsetooth Reservoir are favorite spots—that typecasting a Coloradan's boating preferences is a cardinal sin. These are boaters who expect a lot from their boats, which is why Crestliner proves to be a perfect match.
 Wesley and Kathleen Hopson, owners of a 2013 1750 Fish Hawk, had a fairly comprehensive checklist when they were shopping around for their new boat. Ample rod storage? Check. Several livewells for bait or lunch? Check. Tow power for tubing? Check. The Fish Hawk has been the perfect vehicle for converting his wife into a fishing pro, Wesley explains, "as long as I can get the fish to bite! If the fish are quiet, she will relax and read, but usually we both have two poles out and we're trolling."
With six grandchildren who visit regularly, the Hopsons take watersports just as seriously. "Whenever the grandkids are out, we will pull tubes with the boat. That's the main thing whenever they come see grandma and poppa: you got to get out on the boat because we're going to fish and we're going to play."
WEST BEND, WISCONSIN
Gary Staral is a fisherman through and through, and this is the reason he recentlypurchased his 1850 Raptor. Fishing roughly 75 times a year, Gary needed a boat that was up to the challenge of Great Lakes chop and able to navigate the tight spots of inland lakes around West Bend.
 Gary's old high-school friend and current marine dealer, Brian Bell of Cedar Lakes Sales, knew exactly what to prescribe for Gary's durability needs. "When you hit a wave with a Crestliner, you feel like you've got something solid and substantial beneath you," Brian says. "That's not always the case with a fishing boat, but it should be." 
With its wide-deck design and sturdy, all-aluminum deep-V hull, the 1850 Raptor allows Gary to conquer modest and sizable waters alike. And with its roomy center rod storage that can hold 10 rods, he doesn't have to repack all of his gear when he trailers the boat for an extended excursion.
"I can go a hundred miles away to Green Bay and have all my rods. We're trolling for walleyes, and then we'll stop and fish for small mouth bass. We can change up, and I have got everything right with me. I will go up with my boys and there will be three of us in the boat and it is really comfortable."
Occasionally Gary and his sons boat even further from home. "Earlier this year I was out in Lake Erie, where me and the boys worked the boat hard in rough water and had fun catching a lot of walleyes."
 REGINA, SASKATCHEWAN, CANADA
In the Canadian prairies, you can expect three things: blustery winds year-round, cold temperatures that bookend the summer season and boaters who thrive in these conditions. Mike Hungle, a dedicated fisherman, says he purchased his 1850 Super Hawk from Regina Marine with his family in mind. "The deep-V and high freeboard make it a very safe boat. About the third time out on our Super Hawk, we got into some serious chop, and the boat just plowed right across. We didn't feel uncomfortable at all. It is perfect for families." Mike has a seasonal campsite on Crooked Lake—about a two-hour drive from Regina—where he brings the family for a slew of on-water pastimes. He animates as he outlines his summertime itinerary: "The day starts out with fishing in the morning, and then watersports in the afternoon. My daughter likes to kneeboard, my son likes to wakeboard, and then we will wrap the day up with an evening of fishing."
 As a final thought about his Super Hawk's versatility, he adds, "it's funny, almost every time I am on the water or on the launch, someone will say 'wow' that is a nice boat!" Mike definitely agrees.
MARSHALL, TEXAS
The lakes around the Marshall area teem with white perch and catfish, at least until the Texas heat skyrockets toward 100 degrees and the fish start to scatter. If you grace the water at the right time, you could easily fill a livewell.
During a particularly fruitful weekend on Wright Patman Lake, just west of the Arkansas border, Keith Franks reeled in about 100 catfish aboard his 1650 Fish Hawk, bought from H & W Marine. Alas, those were halcyon times; the fish were still biting then.
"These past few weeks it's been too hot to fish, so I just put on my Bimini top and ride around," Keith says. "A group of us will take a few boats and just go cruise the Lake Caddo backwaters and take in the scenery and relax."
 Keith and his wife, Amy, have been honing their fishing chops all season, but lately they've been content to use their spacious Crestliner to kick back and hang out. "I grew up doing a lot of cat fishing," Keith says. "But lately, I have been getting good at just riding around and cooling off."