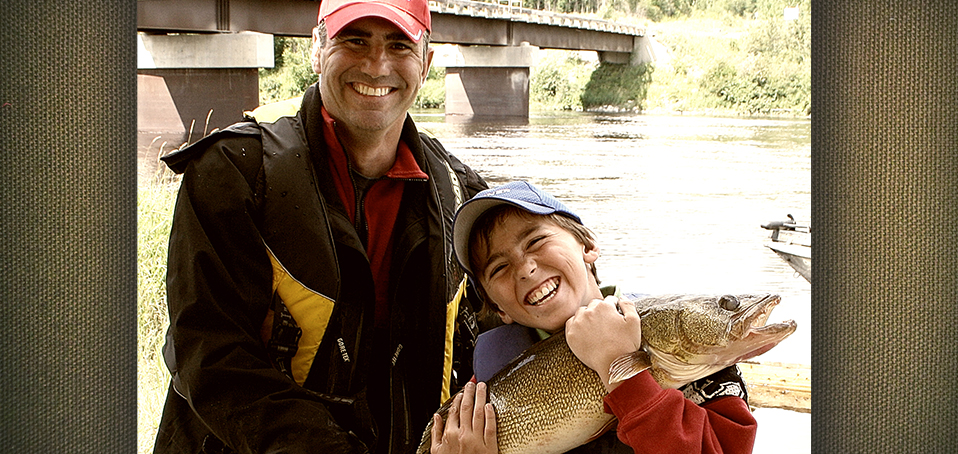 My son Paul had been begging to join me to a walleye fishing tournament for his 12th birthday present. He is a very passionate and excellent fisherman. As it happened, his birthday was on the 9th and there was a tournament in Kapuskasing on the 9, 10 and 11th of August, 2013.
I decided to grant him his wish and invited him to join me for the competition. He was ecstatic.
The Kapuskasing River Walleye Tournament proved to be a close battle between 83 boats. Day one's top weight was 16.43 lbs with 2nd and 3rd right behind at 15.16 and 15.15 lbs. The weights from 4th to 20th position was separated by only 2.39lbs
Now, the father and son Team Leger story of the weekend. On day one the weather was beautiful and sunny and the river water level was high like in the spring. We struggled to catch the 18" and over, but at the end day we finally found a good spot for the next day. The total weight for our first day was 9.74 lbs and ranked 28th. On the second day, again the weather was excellent and it started as a very good day: We caught our limit totalling 12 lbs before noon by traveling from one spot to another. In the afternoon my gut feeling was to go to a specific spot, so I decided to listen. When we got there, I was surprised to see so many boats in the same area. Then, I looked at Paul and told him to set his line with "the special lure." I managed to troll on the edge of a hump and in about 5 minutes Paul caught a 12" and threw it back in the water. He set up his lure again and a few moments later he said "Dad I'm stuck." I responded by turning the boat around and all of sudden he said "I'm not stuck, my fishing line is reeling out." I grabbed the net and told him to reel in slowly and relax. For five minutes or so he fought and finally I netted his catch. He was so excited. Once in the boat I couldn't believe my eyes. We measured that monster walleye at 29.5 inches and it weighed 9.52 pounds. During all that time Paul was screaming and crying with joy. We hugged. That was the best father and son moment that we ever experienced. Our total weight for the day was a whopping 19.9 pounds and the runner up was 13.09 pounds.
Paul and I took first place in the tournament with a total weight for the weekend of 29.64 lbs, edging out second place by 1.39 lbs. It was an amazing weekend. I wanted to share this glorious day I had with my son Paul, and it was an incredible feeling.
Thanks to Crestliner for accepting me as a pro staffer and also Mikey's General Sales & Repairs of Timmins for being my sponsor. I am very grateful.
With this win, I placed 8th out of 800 participants in the 2013 Northern Ontario Walleye trail.
It was a great year and I hope to repeat this memorable moment with Paul.
Thank you again.
Yours truly,
Derek Leger